I finished another Opulent Ornament yesterday. This is made with Amy Butler's Lotus fabric.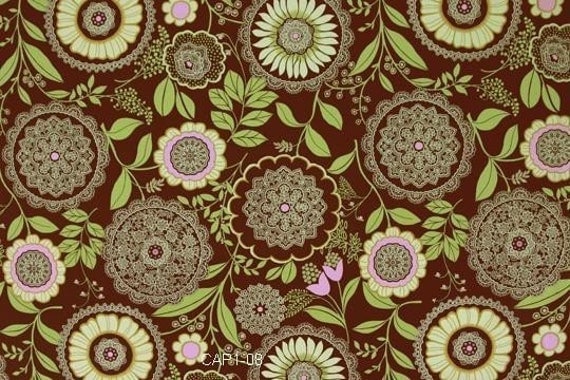 The motif on one side of the ball wasn't symmetrical, so I pretended it was. Funny how many of my little flowers matched up anyway.
I like the other side better, but this picture also shows off the very cool
sparkly stuff
I got last week!
Here are the two Lotus ones together. I'm probably going to add these to a raffle basket the ArtCGirlz are donating to the Museum Quilt Guild. I love them, but they aren't "my" colors. For me, the making is what I wanted, not necessarily the ornaments.
Here are all of the ones I've made so far in a group. I haven't really found a good way to add the hangers to them, plus I don't know where I'd hang them, so I put them on the candle sticks on my mantel.
I had them in a different window at first, and discovered they were backlit. But even there you can see the jewel-like quality they have.
I'm saddened by the killing of the gorilla at the Cincinnati zoo over the weekend. So senseless. And I know that kids disappear in a heartbeat, but am still disturbed by the fact that the little boy was able to get into the enclosure. If it was safe enough for
38 years
, it must have taken the boy a few minutes to get in there. Mom didn't notice he was gone? In a public place, she wasn't holding his hand or something to keep track of him? I knew a guy who said: "You need a license to drive a car, but anyone can have a kid!" (Heard a great line in a Dean Koontz audiobook on my way to work this morning: Human beings can always be relied upon to exert, with vigor, their God-given right to be stupid.)
Yes, I'm being judgemental. And I feel very sorry for that little boy, who will no doubt be traumatized for life by this. It's all heartbreaking. And it damages the survival of this species. Zoos have been very important to the breeding of many endangered animals. This guy hadn't even reached the age to begin breeding yet. Sigh.
I am grateful for:
Air-conditioning!
My first nap in the hammock.
Fun with the grands this weekend. (Ever played a game called "
Silent but Deadly
"? Try it with a 7-year old sometime!)
Some sewing time.
A friend who let us borrow his box trap and then release the raccoon on his land. I hope that was the only one!